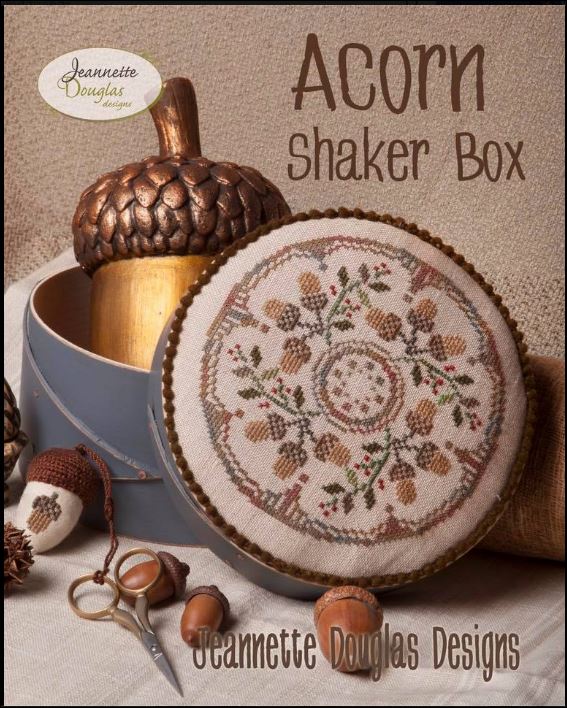 I Rest Thy Needle from Thy Needle and Thread/Brenda Gervais
Brenda used the Clamping Pin Cushion Box in Vintage Dove.
Samplers Notforgotten
Samplers Notforgotten used 8 x 10 crown Box in Union Blue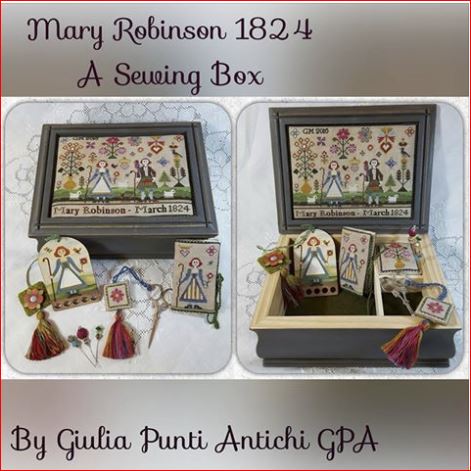 Blackbird Designs Beatles Tribute
Third in the sewing box series, shown on a 6" Black Iron Box from Lone Elm Lane. Published Dec 2013. A very beautiful design and palette.
Shepherds Bush Fold Series
Shown in PLUM, an 8" Shaker Box. Awesome pattern on the box top followed by a series of elated projects- patterns released throughout 2014 and continuing into 2015
Jeanette Douglas Key To Home
Queen Crown Box framing this pattern that allows customization of your house number. Beautiful!
Jeanette Douglas Pins & Needles
Awesome Design of soft palette. Shown on LEL' s 8x8 (Queen) crown box in Vintage Slate
Blackbirds Leonas Sewing Box
This beautiful pattern on a vintage slate box. Design size is 6x6 and the box is 8x8 inches in size. Two pincushion patterns are shown in the included wood pin tray.
Leonas Sewing Box
Vintage Slate 8x8 box fwith 6x6 pattern area, with traditional motifs that come together to make a stricking design and pin cushion designs included that fit in the wooden pin tray.
Mani di donna
Sunflower Cottage Sewing Box, with all the accessories, pin cushion, needle book, scissor fob and custom thread winder!
Mani di donna
The accessories fopr Sunflower Cottage Sewing Box Pattern. Very detailed stitching on every piece, so pretty!
Chocolate Hearts
Beautiful Pattern from Plum Street Samplers, Surprising colors with antique deer, shown on Dark Chocolate 8" Shaker Box from Lone Elm Lane.
Plum Street Samplers Autumn Posey
Unique colors create this surprising design, so very pretty on the Lone Elm Lane Robins Egg Blue 6" Shaker Box!
Primrose Hill
Cherished Stitches presents a new pattern shown on Queen Crown Box in Dark Chocolate, traditional design with brighter colors, and verse. Box includes wooden pin tray!
The Gift Keeps Giving
3 Patterns
Sampler....Box Top for Shaker Box (Wooly White or Brick Red) and Needle keep, What a great design with solitary color throughout, Lovely pattern on the Shaker Box, intense colors!!!
Garden Birds
Such an awesome design, Shown on Vintage Slate Queen Crown Box. Very sharp pattern with striking colors! Personalize with Initials!
Garden Birds, La-D-Da Designs
Striking colors, This beautiful pattern sure makes the Vintage Slate Queen Crown Box look really good, WOW!
Lindsay Lane's Mexican Sampler
A section of a Reproduction Sampler shown on Lone Elm Lanes Vintage Slate Box. More to come, very pretty!
GIVE THANKS
Such a beautiful fruit basket, great thread colors, they have done it again. Second in the sewing box series!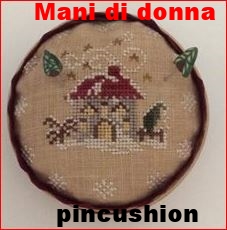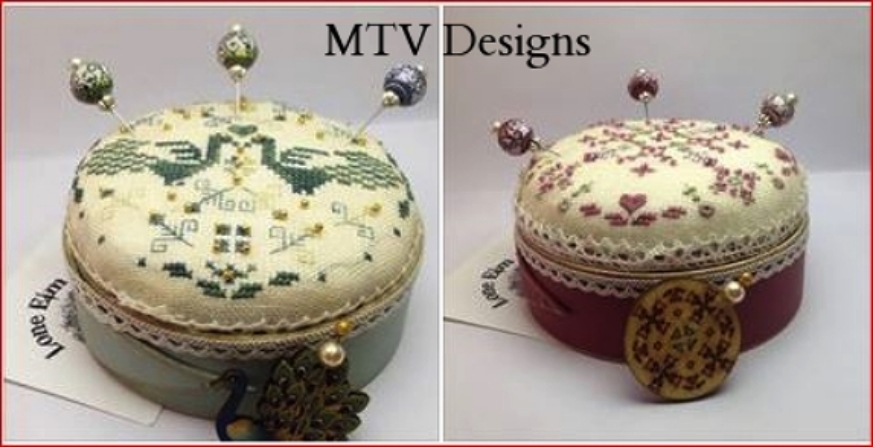 Honeybee Hill Design
An 8" Wooly White Shaker Box was used for this awesome pattern. Primitive house, trees, and bees...
Lindsay Lane Designs
A Mexican Samplar Reproductiuon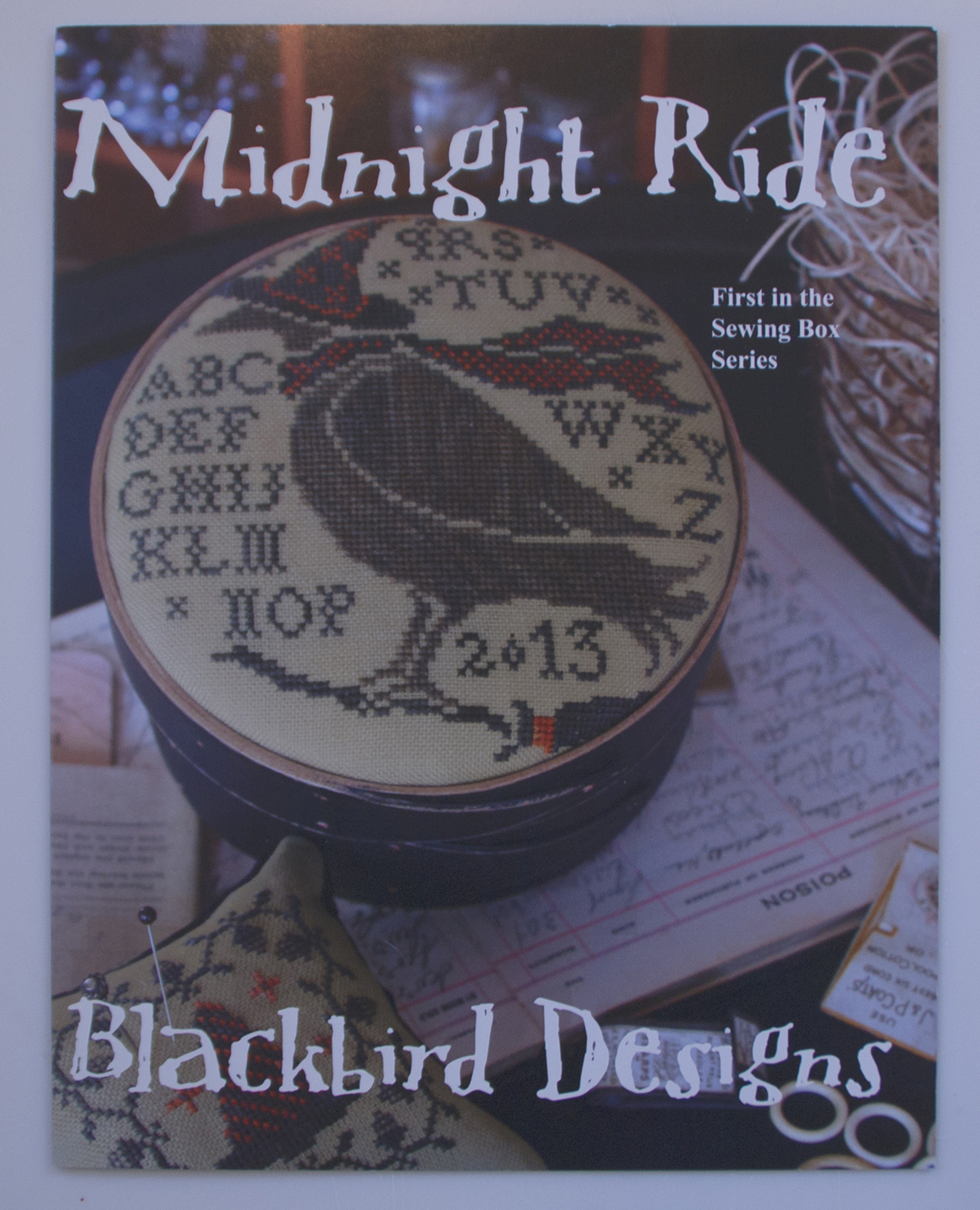 Blackbirds First in the Sewing Box Series
Shown on a 6" Lone Elm Lane Shaker Box with drop top for mounting design.Blackbird First in the Sewing Box Series.



In The Valley Blackbird Designs
Stitrched and mounted in the Lone Elm Lane 4" pincushion in Wooly White. Beautiful palette, always inspiring!
Scissortail's Design
FLEUR DE LYS FOR THEEThe design includes pin cushion and scissor fob and alphabet for Monogram. Shown on LEL's Vintage Slate Queen Crown Box with pin tray.This is an elegant pattern, like the name implies.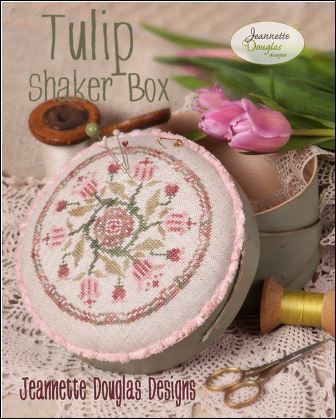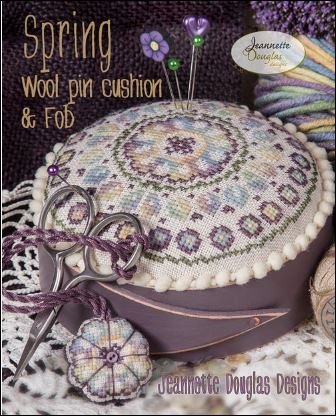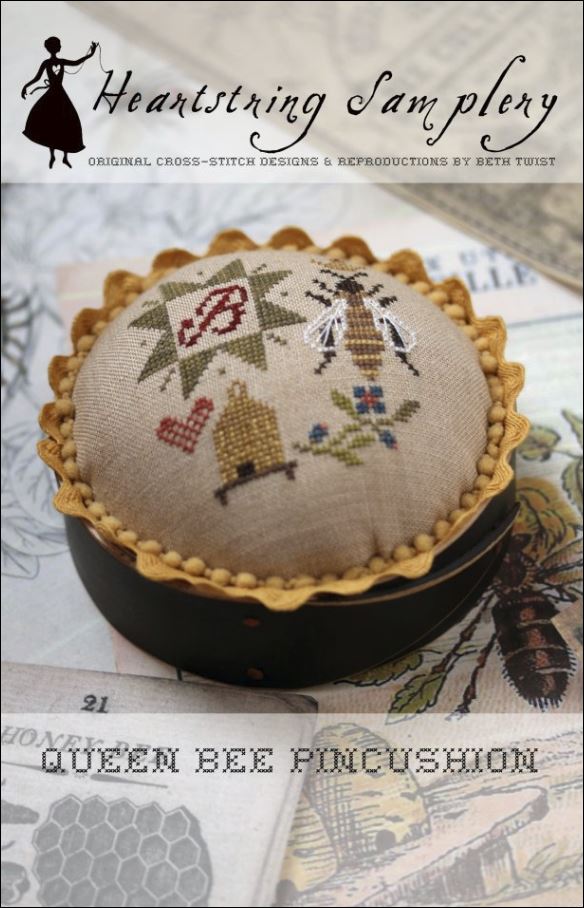 Oldest (2014) to Newest Order, These designers so graciously created patterns that fit Lone Elm Lane boxes. They really make our boxes look their best. We feel lucky!!
Paulette of Plum Street samplers designed this awesome Autumn Ewe pattern for Lone Elm Lanes Petite Pedestal Frame.
This primitive interpretation of Adam and Eve shown on Vintage Herb Cabin Box from Lone Elm Lane
Kimberyly Nugent of
Samplers Notforgotten
designed this awesome
patriotic pattern with pearl
buttons adding texture for
flowers and the puppy is our
favorite, such a charming
stitch!
Design size 6x8 shown on our
Union Blue Price Crown Box, it
comes with a sliding, divided
wooden tray.